Select the gallery type
I have wanted to travel to Morocco for over a year now. It first popped up on my radar while we were planning our departure from Italy, after a three-month stay in the countryside learning (incredible) recipes. We needed to leave the Schengen territory, which includes most of Europe, for at least 90 days. This problem presented itself due to a bit of travelers arrogance mixed with a side of cheap skate. After spending six months in Central America, hopping country to country as our visas expired, we were overly confident in our ability to do the same in Europe. Couple that with our lack of excitement for applying (and paying) for a visa to a European country and there you have us in Italy learning that we would not be going to France or Spain, as we had planned. In order to renew our tourist visas we needed to go to The UK, Ireland or exit Europe all together, for at least 90 days. Morocco was the front-runner if we chose the latter plan, but we didn't. Instead, we chose to create a bit of a home base in England, making friends and creating memories throughout the country.
This, of course, did not take Morocco off of my radar. During the entire year of travel through England, Holland, Spain, Germany, France and Belgium, my love affair with Morocco only grew stronger. So when we, again, needed to exit Europe or retreat to England, we chose to finally head to a new continent. What you may not know is that Morocco is a huge tourist attraction for Europeans, with its beautiful, exotic culture and delicious food. This influx of travelers makes flights to the country extremely affordable. If you are traveling with a budget airline, such as Ryanair, you can fly to Morocco from Italy, Spain, France, Germany or England for less than $40 (if you book a month or more in advance).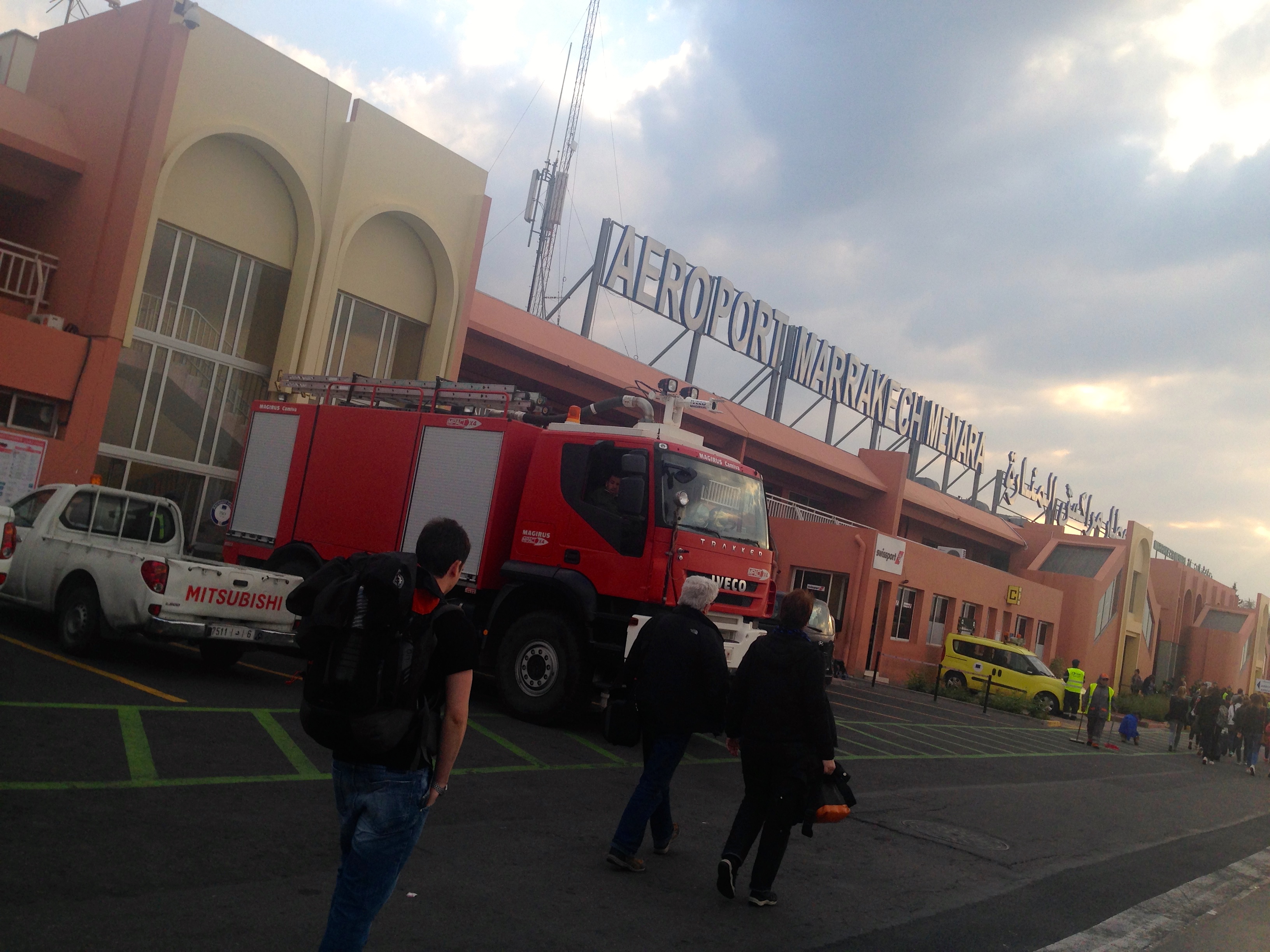 We arrived in Marrakech a little terrified. Customs had a bit of a problem with my occupation title: 'Writer', and did not seem to accept my verbal adjustment to 'blogger'. So after convincing the two custom agents that I was not a writer for a newspaper and Jarrell did not intend on painting houses, as I always list 'painter' as his occupation (note: we have decided to change our occupation titles to 'artist', going forward), we were on our way.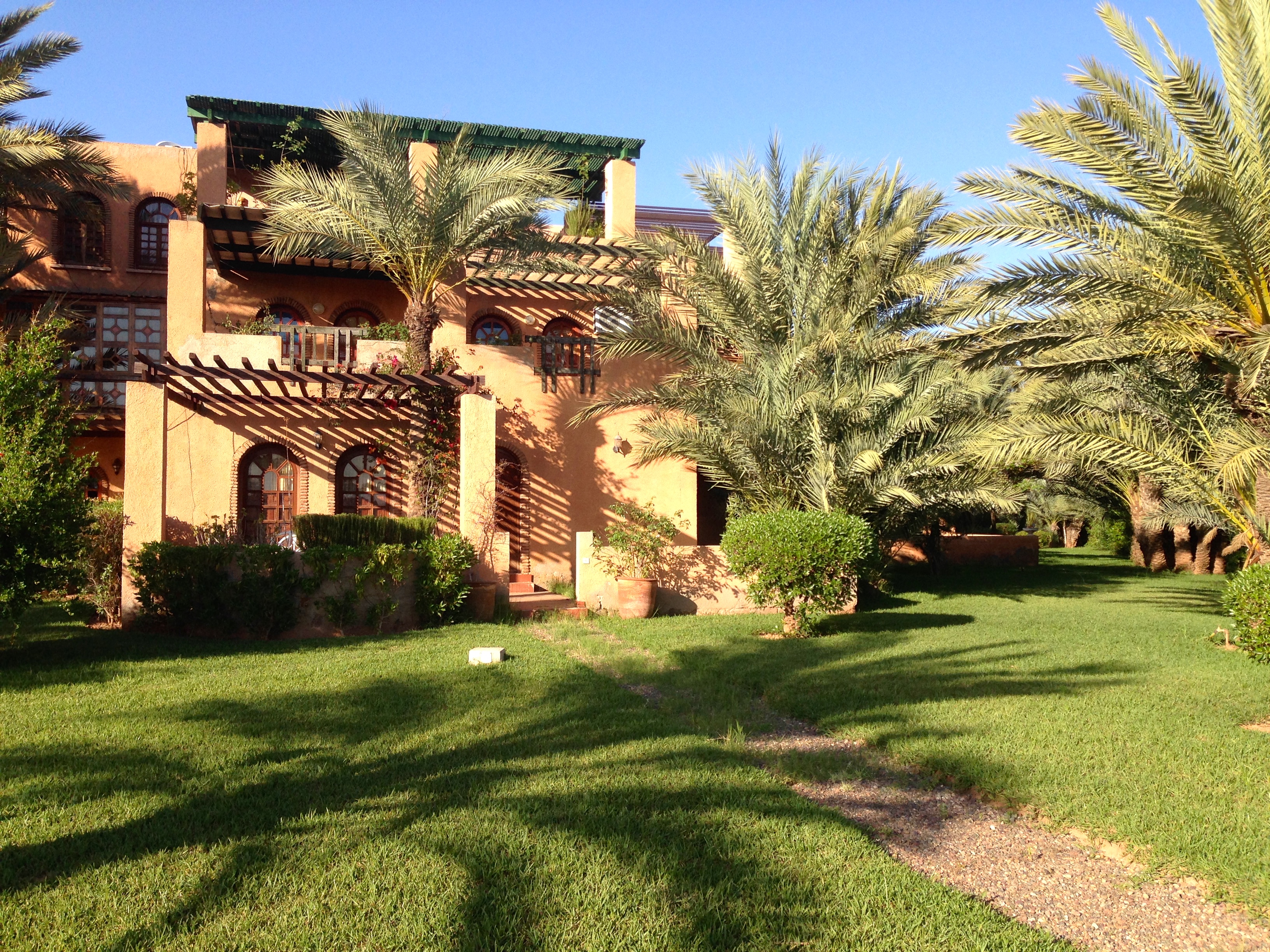 Initially I booked an apartment outside of the medina, or old city of Marrakech, choosing to avoid the hagglers and chaotic energy in the souks I had read so much about. Our apartment was a little studio, about 15 minutes from the city center. I was instantly in love with the atmosphere, which resembled a honeymoon resort or rehab facility. So calm, serene and surrounded by nature. Our balcony had an uninhibited view of palm trees with a summer heat in the beginning of April.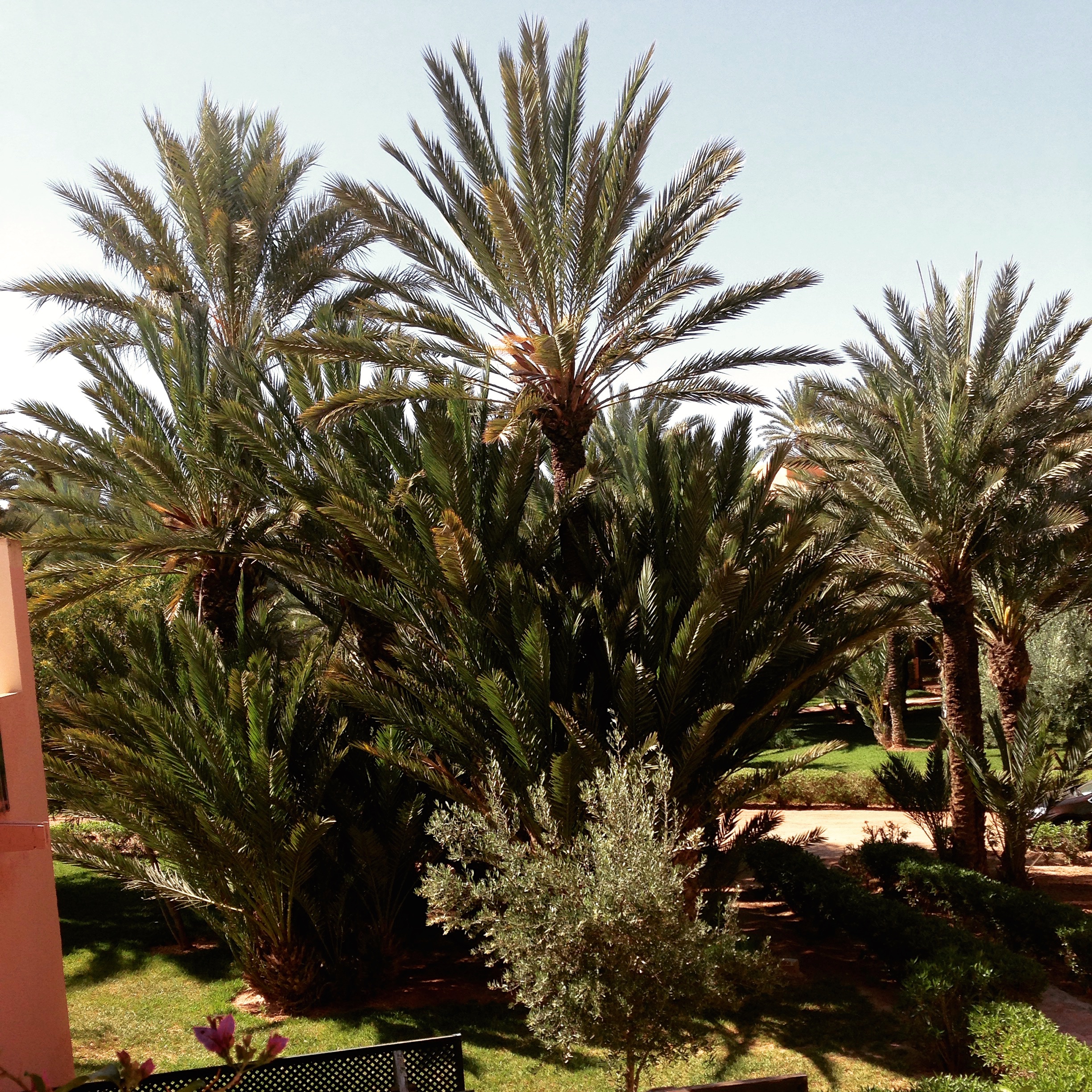 Our apartment was very nice, with all of the western comfort features: air-conditioning, cable tv, wireless Internet, King size bed, fully equipped kitchen, community pool, etc. I found our studio on Airbnb, and a month rental was only $500. I'll delve further into the perks of traveling/living in a country with such a low cost of living in a future post.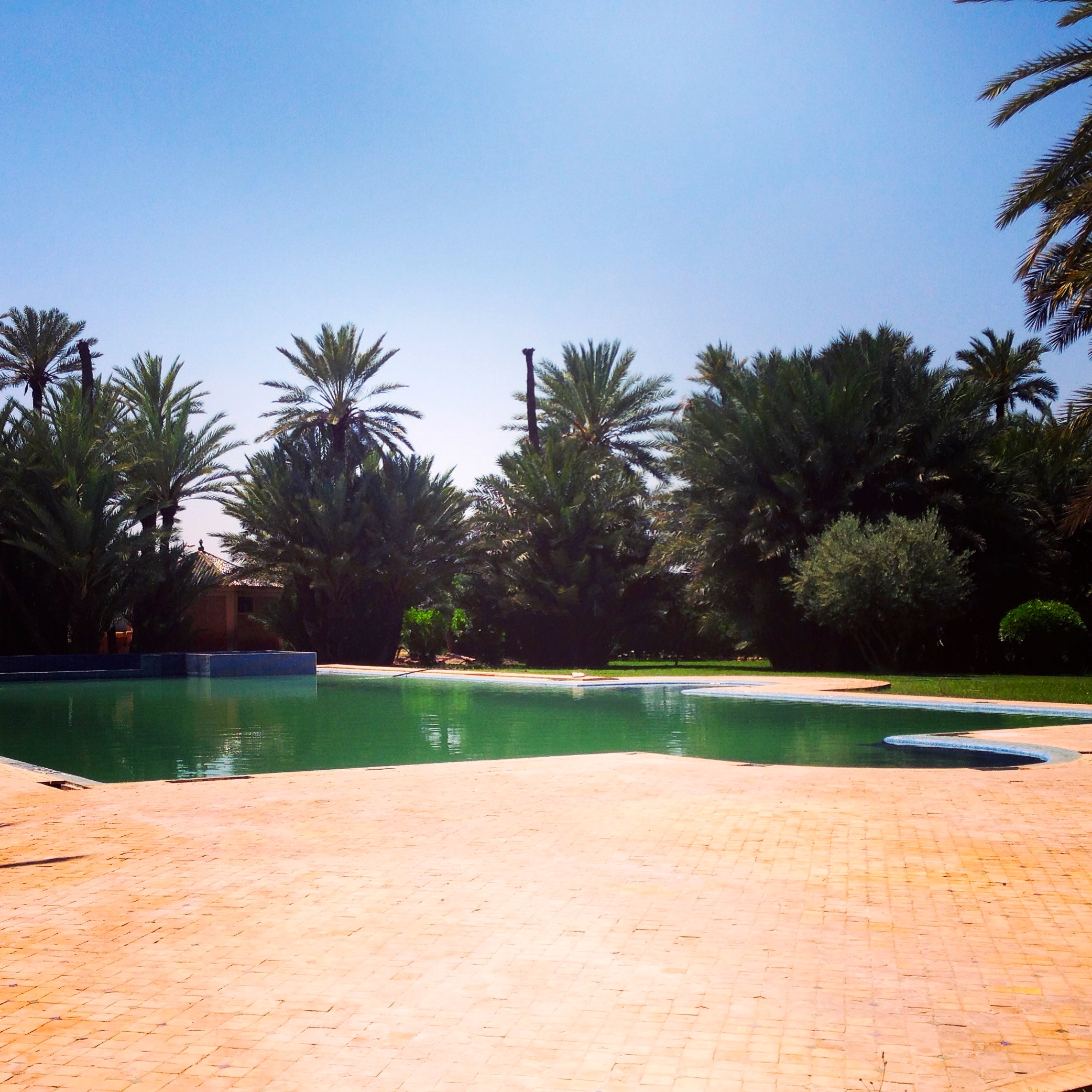 While I loved the quiet feel, as our departure from Marrakech drew closer, I felt a strong inclination that we could not leave without spending a few days in a traditional riad, in the medina. So that's what we did. Riads were traditional family homes, usually from the 19th century or earlier, which have been restored and opened as bed and breakfasts or full on hotels. Traditionally, a riad would house generations of a family, with a roofless common area in the center of the home, open to the elements.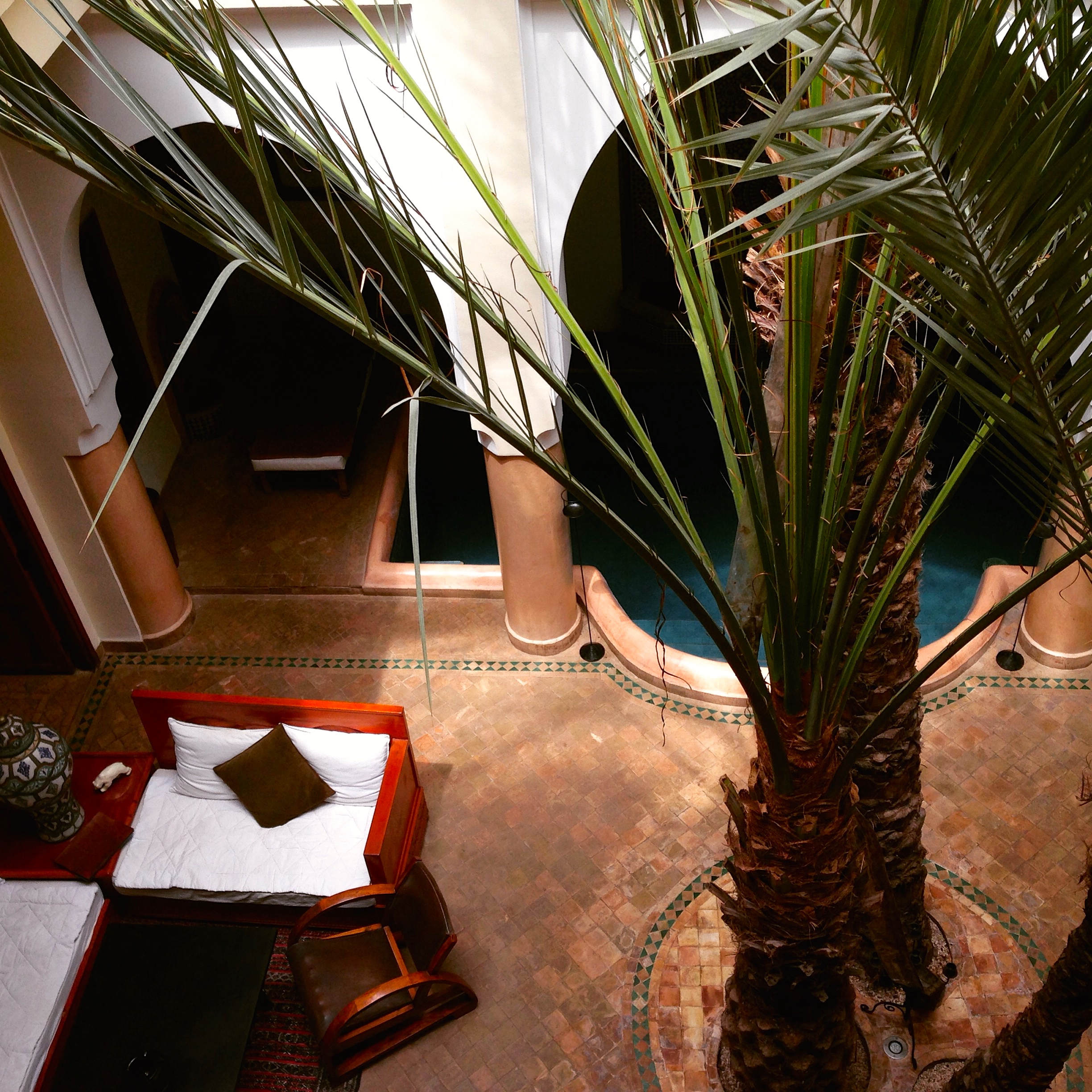 I also found this stay at Riad Trois Palmiers on Airbnb (for about $75 per night) and was lucky enough to have an amazing host named Patrick. More than just a bed and breakfast owner, Patrick was dedicated to sharing his journey to purchase and restore the riad with his wife, as well as mixing in much appreciated history lessons about Morocco and its deep dedication to hand made art, which decorated every corner of the riad.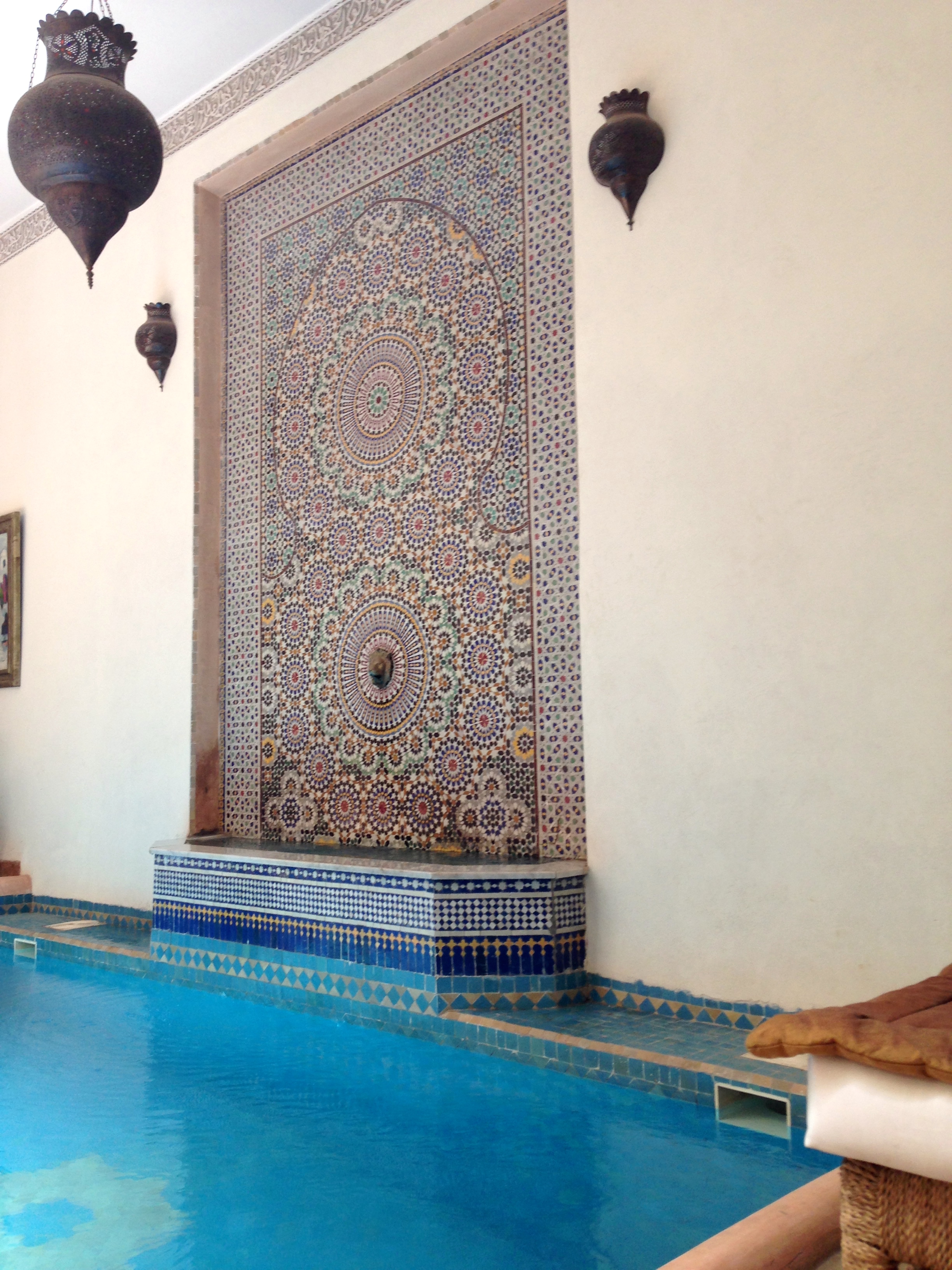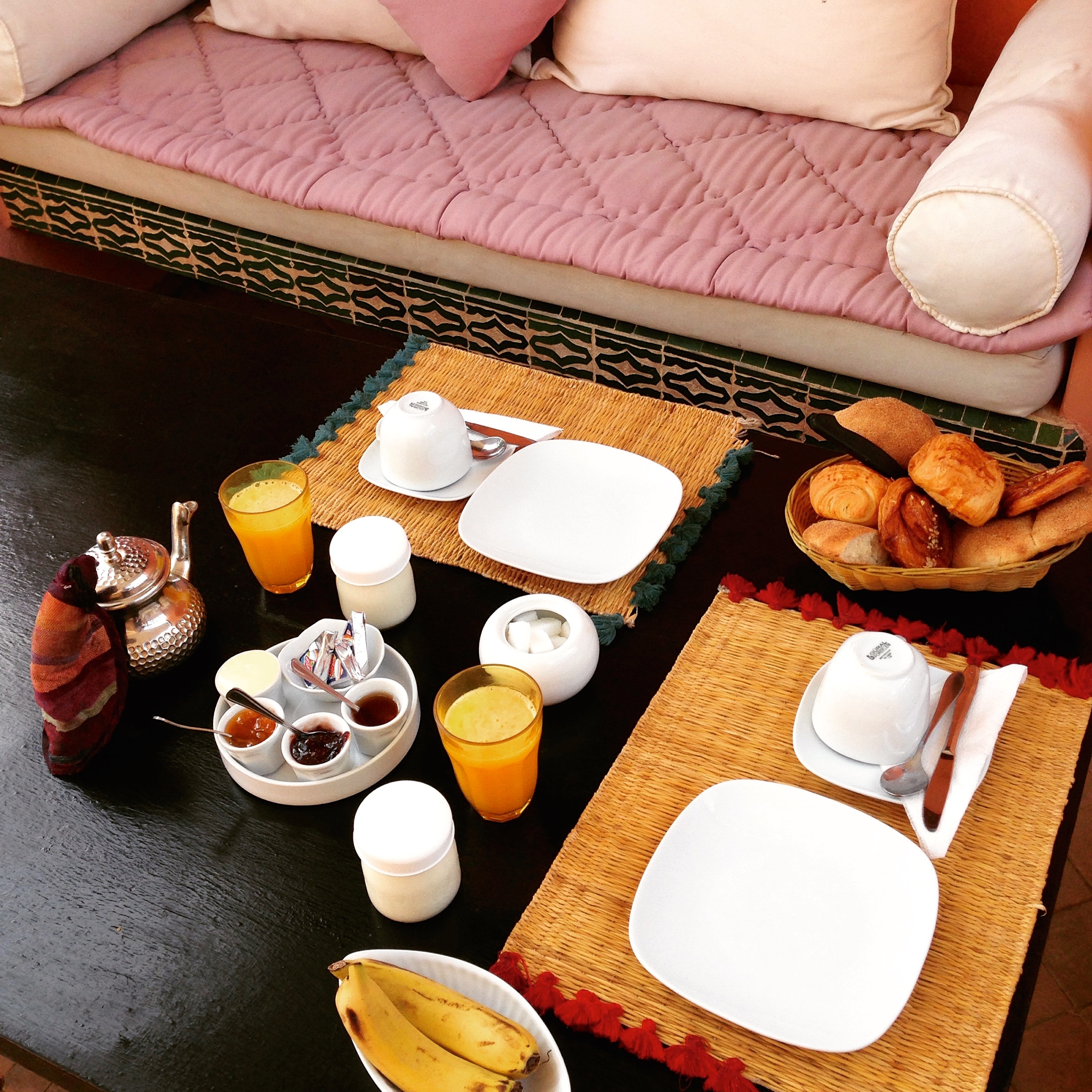 The food. I can, and plan to, write an entire post about how amazingly fresh the food is in Morocco, but for now I'll just breeze over this delicious topic. Moroccan breakfast, and every meal, includes green tea. The green tea is a mix of dried mint leaves, gunpowder green tea and a lot of sugar. Yogurt is made of goat milk, fresh fruit is always served as well as fresh bread and orange juice (do yourself a favor and buy or make fresh orange juice – the fresh squeezed orange juice in the medina is only $0.40 a glass). For dinner you are in for a treat, if you're staying in the medina.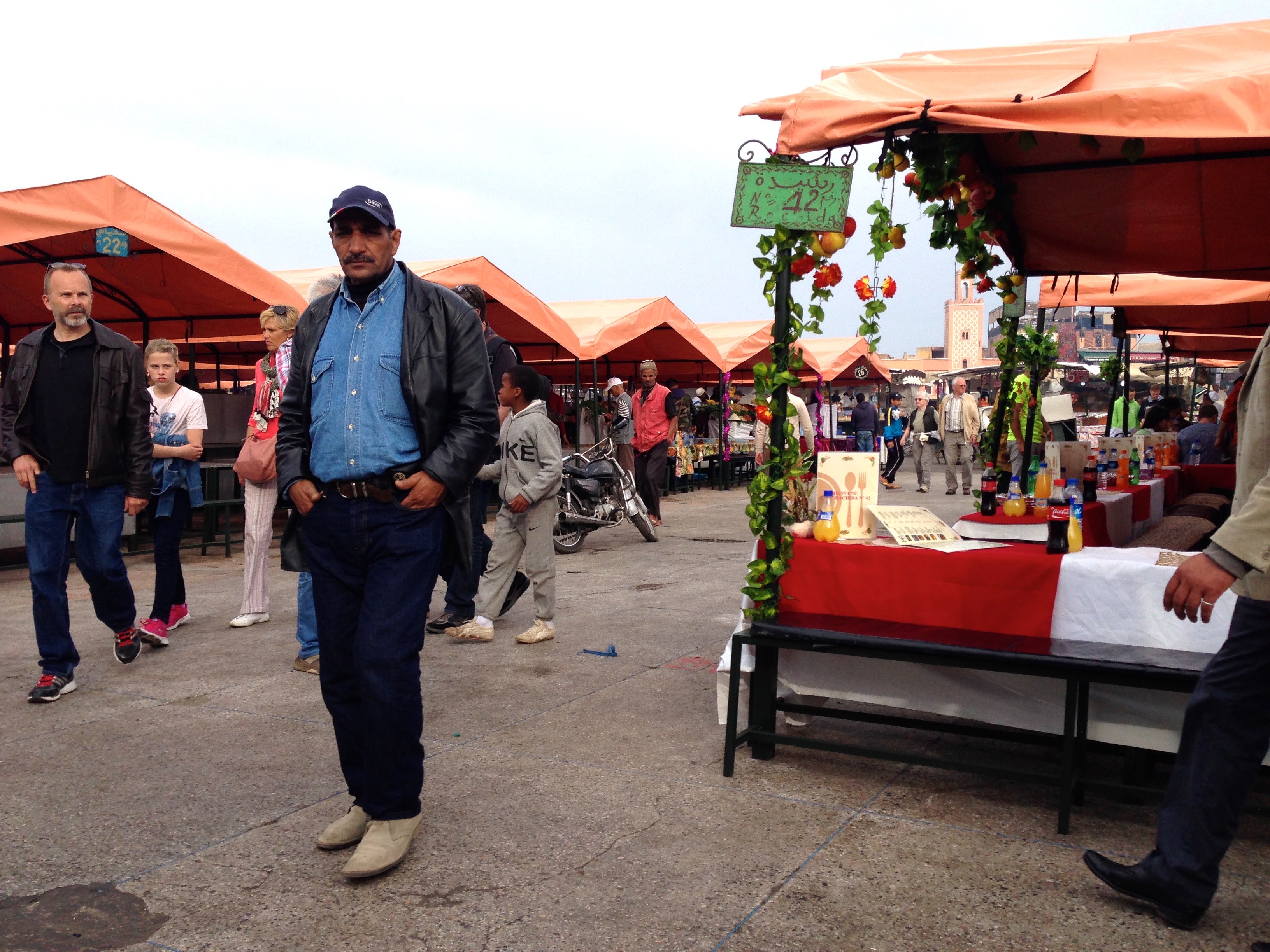 Simply head to the square after sunset and you will see the restaurant stalls begin to pop up with some of the freshest, most delicious and inexpensive food I have ever had. Think of food trucks with seating. I recommend stall #14, where we ordered fresh fried calamari, fish, French fries, bread and salsa for a whopping $4. My other favorite was stall #1, where we ordered a traditional tangine – which is the most popular and common meal in Morocco – essentially a slow cooked stew, as well as a chicken kabob, French fries, bread and salsa, all for $5.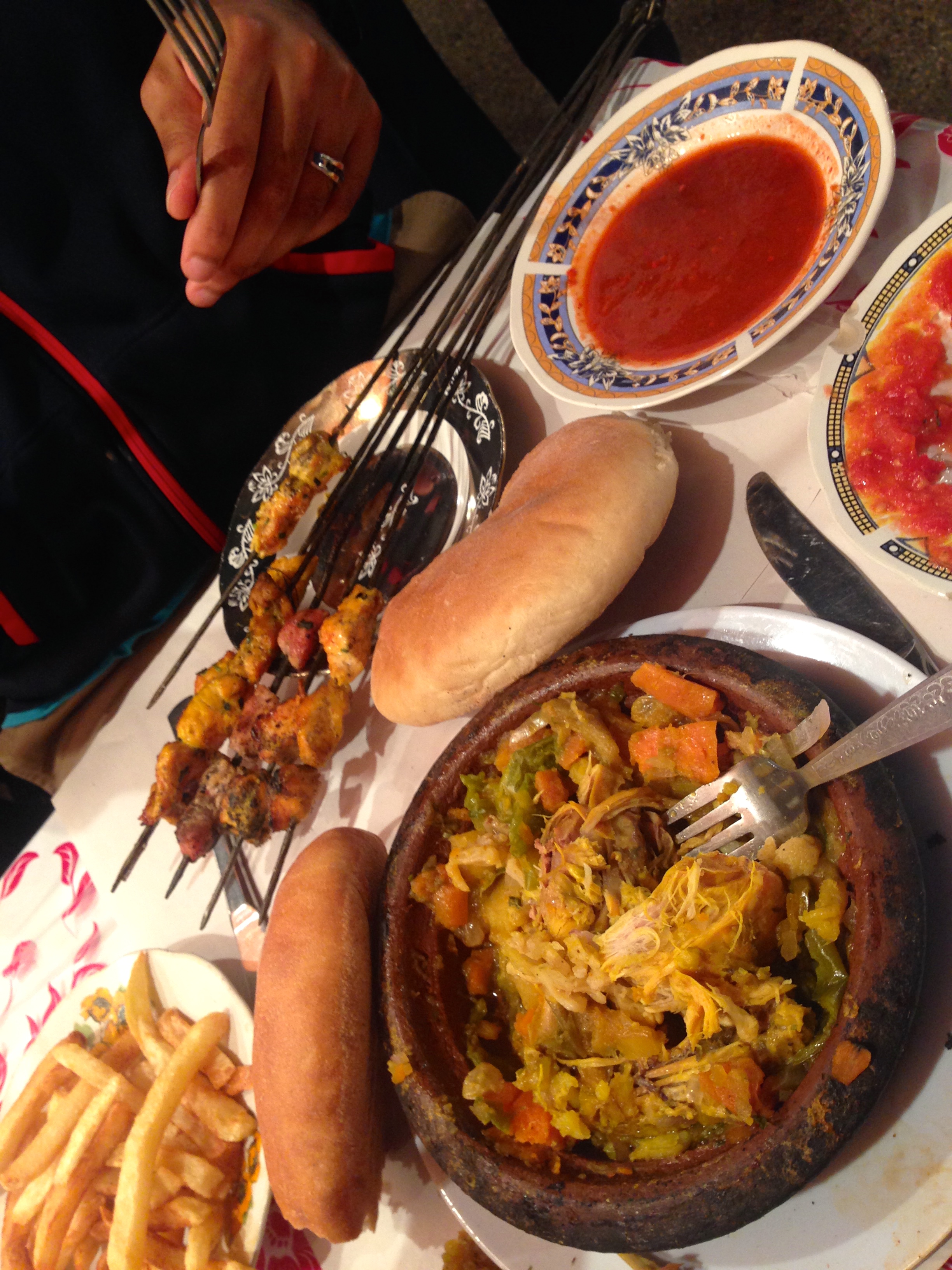 As I've mentioned, I could write too many articles about Morocco and my new love affair with the people and culture. I am actually on a blogging/social media hiatus solely to make sure I do not discount or miss anything on this journey. Honestly, I couldn't even contain my excitement to write this post and gush about my love affair with Morocco. If you've ever visited Morocco, or wish to, let me know what you loved or want to read about. Sign up for updates to be alerted of all the future installments regarding our Moroccan adventure.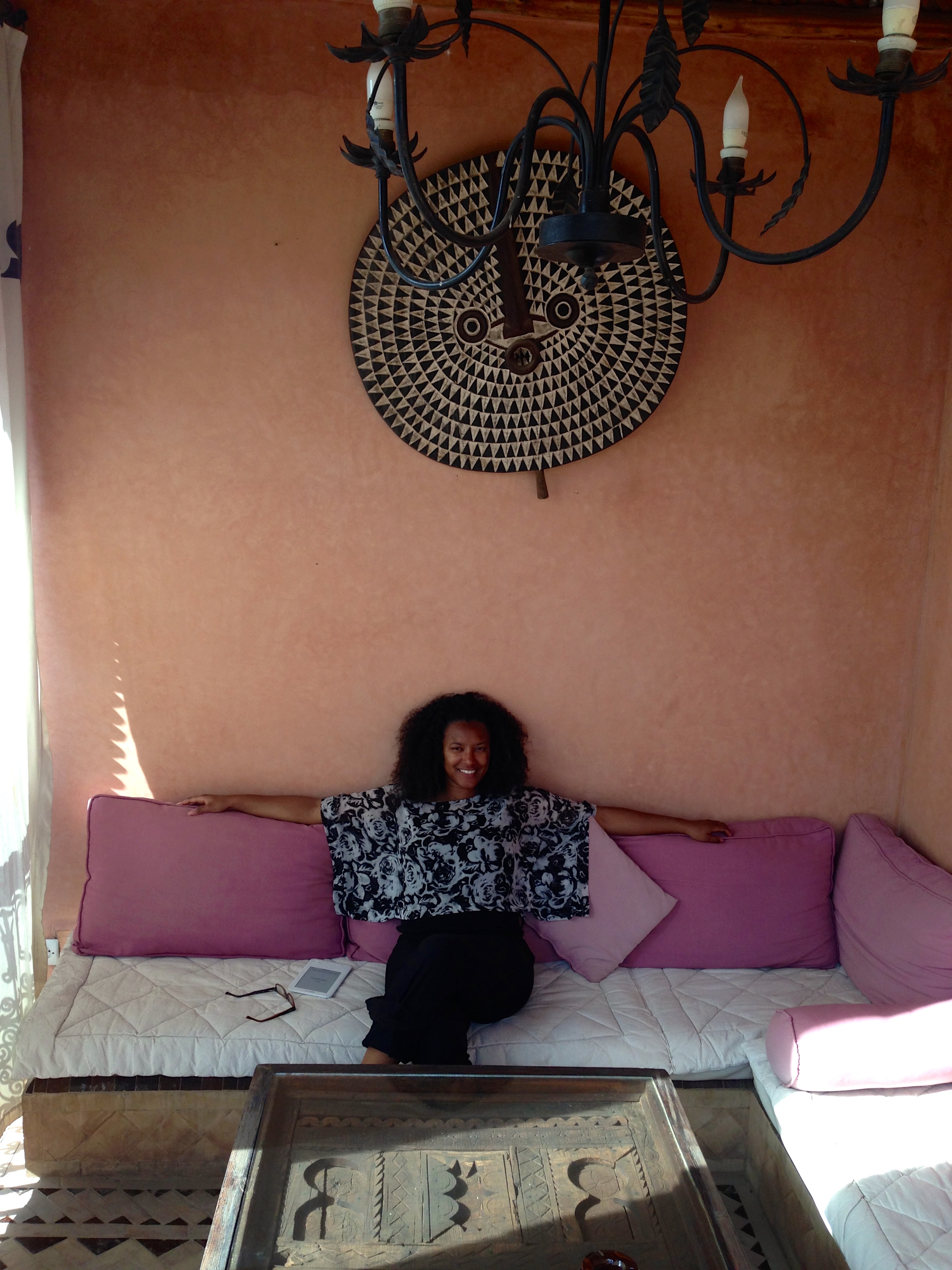 xoxo