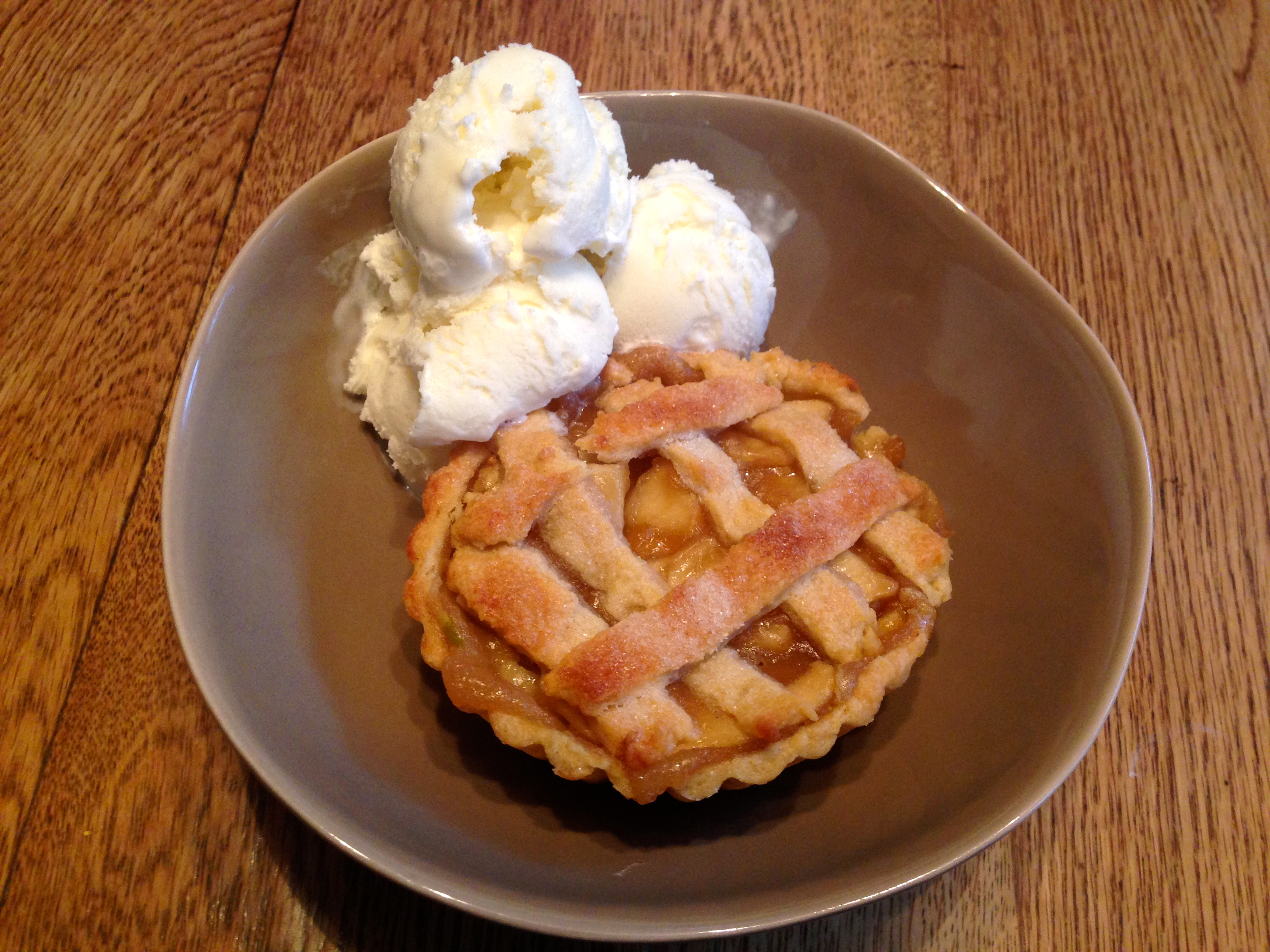 When the husband has a sweet tooth and you're staying next door to an apple tree in, in the countryside of England, recipes like this one are born. I mixed a few things up to create a simple apple pie recipe from scratch that turned out so well, our host asked me to make them again for her dinner party. I made everything from scratch, of course you can buy premade pastry dough if you'd like. Lastly, because there were only two of us I chose to make four small, individual pies. If you would like to make a 9" pie, double the ingredients and follow the same instructions.
Pastry Dough
Ingredients:
1 cup all purpose flour
A pinch of Salt
¼ cup unsalted butter cut into cubes (softened, not melted)
3-4 Tablespoons cold water
Instructions:
Put the flour and salt into a medium to large sized bowl then add the cubes of butter.
Rub the butter into the flour with your fingertips trying not to leave any clumps of butter. It will look like large breadcrumbs when you're ready for the next step. Make sure to complete this quickly or it will become greasy.
Add the cold water one tablespoon at a time (using only as much as you need), mixing with a knife until it comes together as a ball of batter.
Cover the bowl with cling film and let chill until you are ready to use.
Once you are ready to make a pie, roll the dough out to a thin layer, using a little extra flour to make sure it does not stick. Cut the dough to fit your pan(s) and also into strips to create a latticework crust for the pie covering.
Apple Filling
Ingredients:
¼ cup unsalted butter
2 tablespoons all purpose flour
¼ cup white sugar
¼ cup packed brown sugar
¼ cup water
4 Granny Smith apples – peeled and sliced
Instructions:
Preheat oven to 350 degrees F.
Melt the butter in a saucepan on and stir in the flour to form a paste. Next, add the white and brown sugar along with the water; bring to a boil. Immediately reduce temperature once the mixture begins to boil.
Add apple slices to the saucepan and stir, coating each slice with the sugar mix. Allow the apples to simmer on low heat.
Place the bottom crust in your pan(s). Fill with the apple filling and top with latticework crust.
(Optional) Brush the latticework crust with melted butter and sprinkle with white sugar.
Bake for 25 minutes or until crust is golden brown.
xoxo