We were on a journey through Central America, trekking from Nicaragua to Mexico, when we were caught in a protest in Guatemala. After an hour of an extremely bumpy ride through the countryside north of Santa Elena, Guatemala our bus came to an abrupt stop. Initially we, along with the other four passengers, assumed it was a standard stop. Then the bus driver stopped the ignition and we all began to look around curious and worried. There were two other couples on board: one from England on their first day of a year long backpacking adventure; another Guatemalan couple that resided in the USA. The latter quickly became the translator for all the non-fluent Spanish speakers, which included us. The first assumption was that we were in line for the border to Belize, as we were less than five miles away. Next we began to see shirtless men walking in line next to our bus, carrying large sticks and machetes and knew this was no line for the border. Instead, we were caught in a protest in Guatemala, stopping us from reaching the Belize border.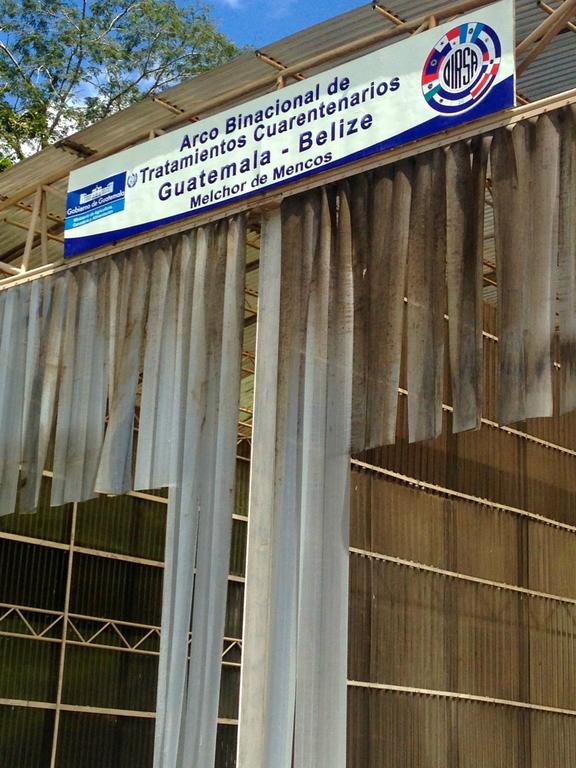 I will admit that I was terrified when I saw the men with machetes. I quickly put my cash in my sock, not knowing what was going on. Luckily, our translator was familiar with these tactics and quickly put us at ease. The local residents would create barricades like this when they were demanding a response from the government, usually for improvements to their community. The demand of this protest was to repair the bumpy roads, and they were going to trap as many vehicles as they could until they were promised improvements.
We were told it would be best to leave the bus, as it was soon going to rise to over 100°F. Within an hour everyone locked in the blockade began selling any and everything they were transporting while the local business owners took advantage of the influx in customers. There was a truck offering packages of water, a woman selling corn on the cob, an ice cream cart and even fresh fish smoked in palm leaves. We enjoyed this with the other passengers of the more than 200 vehicles caught in a protest in Guatemala that spanned over a mile long. After six hours of the impromptu block party a government official came, signing a contract to improve the conditions of the roads and we were all finally allowed to continue on our way to the Belize border. Check out a short video I made on board our bus below.