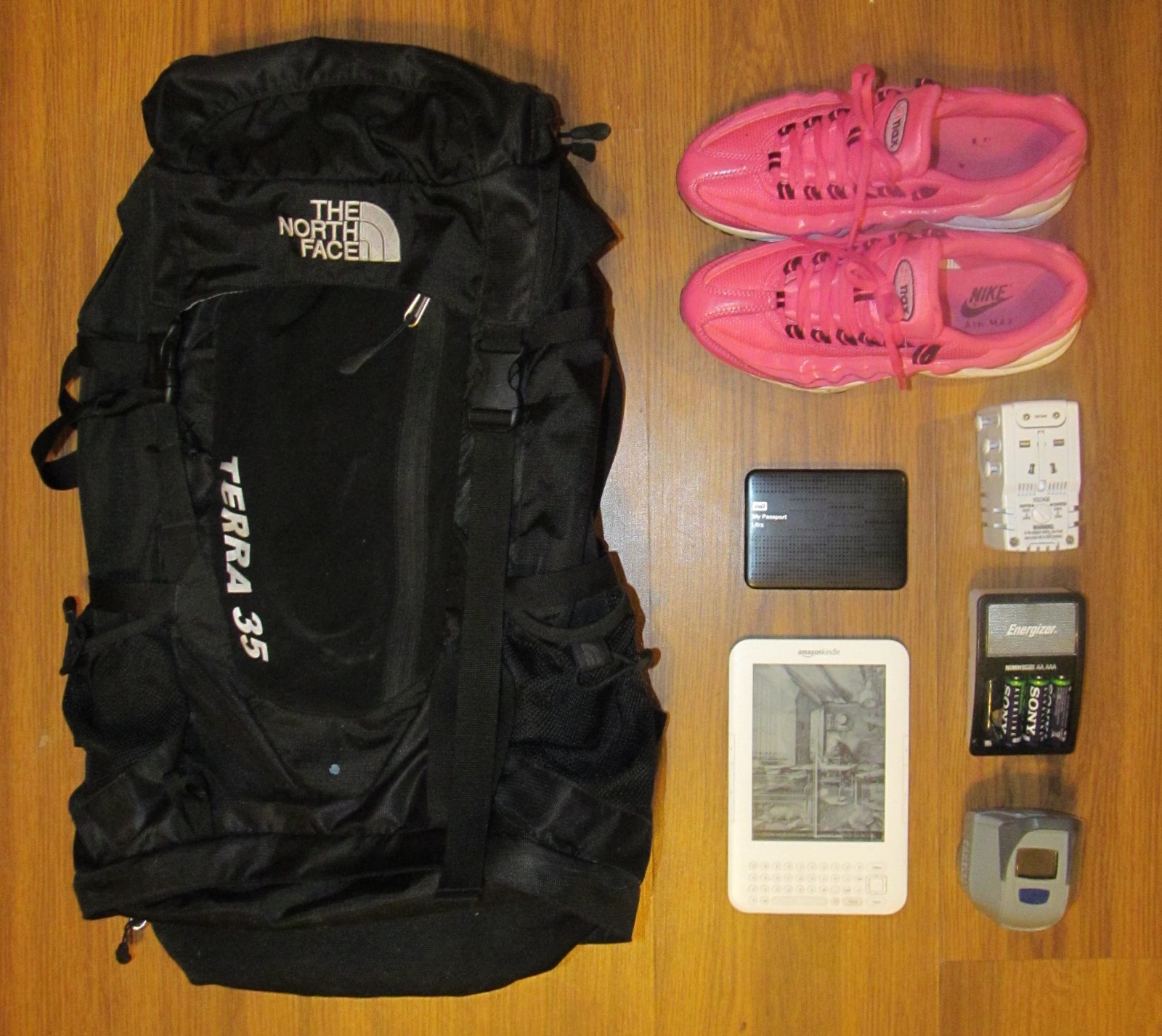 I am always telling everyone how light we pack, which naturally brings about questions regarding what exactly to pack when traveling abroad, especially for longer periods. Well, here is my packing list as of now.
I should mention that my list, particularly my clothing, differs depending on the weather we encounter. I simply change out my wardrobe as the weather changes, donating the clothes that I can no longer use.
I only carry a backpack (35L North Face Terra, for those interested), which fits all carry-on limitations and is not too large for my small frame. I don't like the idea of carrying a gigantic backpack. Although I'm sure it would allow my wardrobe to flourish a bit more, whenever I see travelers struggling with their 70L backpacks, failing attempting to fit in, I'm glad I opted for a smaller option.
Without further ado, here is my packing list. My true recommendations are in the electronics department.
Clothing
5 Pairs of Socks
15 Pairs of Panties
5 Bras
5 Tank Tops
5 T- Shirts
3 Crop Tops
2 Long Sleeve Shirts
2 Pairs of Shorts
2 Button Ups
2 Skirts
2 Dresses
2 Yoga Pants
2 Pants
1 Hat
1 Raincoat
1 Hoodie
1 Umbrella
1 Pair of Sandals
1 Pair of Comfortable Running Shoes
1 Pair of Cute Kicks
1 Pair of Boots
1 Large Scarf (Doubles as Bikini Cover up or Beach blanket)
Medicine/First Aid
For this section it is a bit of a mix up. Initially I started with a standard first aid kit and way too much medication. I later learned more about aromatherapy and decided to treat our illnesses with home remedies as often as possible. I will share some of my favorite recipes later this week. For now here is a short list:
Every size Bandage Imaginable – (I probably have over 100 bandaids)
Gauze
Neosporin
After Bite Stick
Cortisone Cream
Thermometer
Burn Cooling Gel
Insect Repellant
Cream to Prevent/Soothe Scratching
Ibuprofen
Aspirin
Benadryl
Claritin
Peppermint Essential Oil
Lavender Essential Oil
Basil Essential Oil
Electronics
eReader – Kindle and/or iPad (Download Overdrive, a free app, and you can check out eBooks from your local library from anywhere in the world).
Water Purifier – I use CamelBak All Clear Water Bottle (purifies water with a UV light in 60 seconds).
Converter and Adapter – I carry one that adjusts to worldwide sockets
MacBook Pro –Invest in a good computer so that you do not have to worry about crashes and viruses.
External Hard Drive – Because pictures, pictures and more pictures!
Rechargeable Batteries – One of our cheapest and best investments
Camera and Memory Card
So that's it. All packed up in my backpack. I left out my toiletries components, because they're more person specific, and tend to change at every destination, because I try to use local products and oils. What do you pack on your travels? I'd love to hear your recommendations.
xoxo